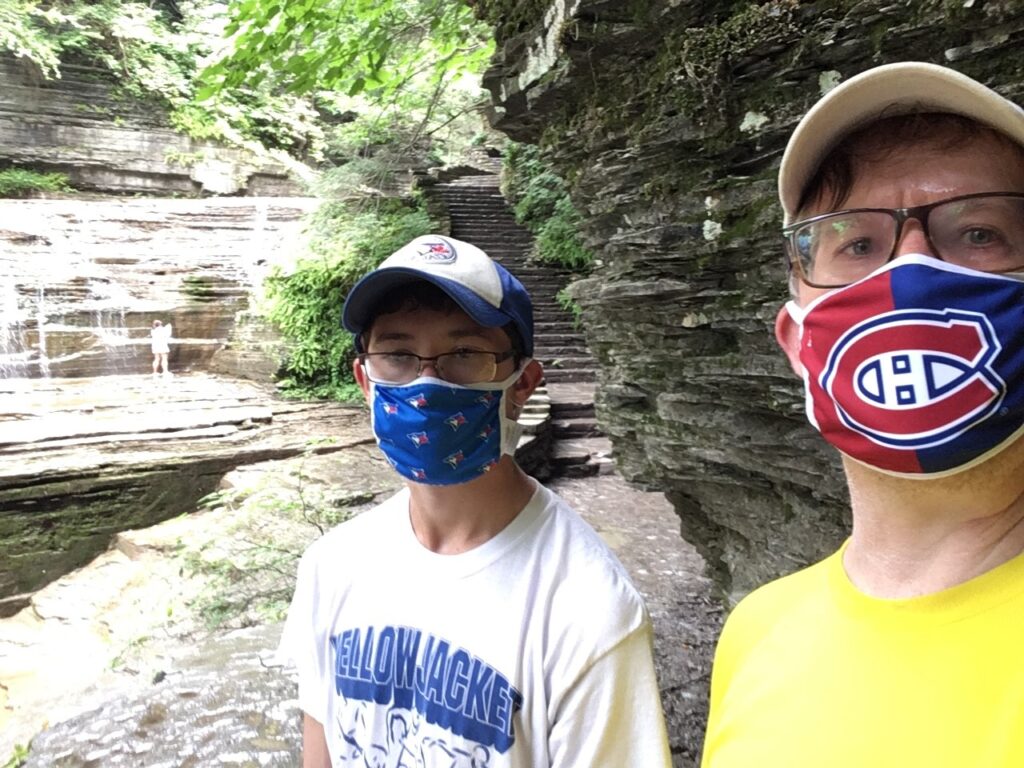 PANDEMIC VACATION
Can you go on a family vacation during a global pandemic?
With proper planning, suitable paranoia, and limited expectations, the answer is yes. What follows is a short description of the efforts of our family for a getaway during the pandemic summer of 2020. My tale shows that sometimes with a bit of planning, attention to safety, and flexibility, you can still have a bit of joy in the grimmest of times.
At first, I thought the suggestion was insane: "Can we please go on a family vacation?" The question came from my son Jon, who is on the autism spectrum and can get very focused on matters that are important to him. During the peak of the COVID pandemic in Spring 2020 this idea seemed extremely unlikely. With the spike of COVID cases in New York in the Spring, vacationing was the last thing on my mind. During the worst of the Spring COVID surge, my life revolved around teaching all my classes online and nervously venturing out to the grocery store once a week. I did not go to restaurants. I did not socialize with friends. I did not go into my office except briefly some evenings to grab some books or documents. No friends entered our house. It was like being in a siege (or in a prison) with my family as my only real social contacts. The highlight of the week was Friday night take out for supper.
By the summer things did improve a bit. Cases dropped. We kept on our masks and socially distanced from non-family members. We still abided by our rule of having no friends into the house. However, we began to have socially distant social gatherings of a few select friends on our front porch. We had a stone patio put in our backyard and started tentatively to host a few select friends there. We ordered take out and ate it all outside. We felt slightly more normal but were still quite careful. No shared cutlery! No shared drinks! Tons of hand sanitizers! Face masks when you are not eating! Everyone sitting more than six feet apart! By June I began to go into my office a few days a week to do academic work there.
By the time late July rolled around, the vacation idea could not be avoided. Jon persisted. He had a point. By then he was even working a few days a week (masked of course) in the kitchen at Applebee's as a summer job. He felt a family vacation was a sacred family ritual. I relented.
We had cancelled a huge summer trip to Canada for 2020. We were going to visit our much-loved family in Ontario and then fly out to Newfoundland, Canada's easternmost province. I had never been to Newfoundland (fondly called "The Rock" by Newfoundlanders). It was the first part of North America visited by Europeans (by the Vikings in the 11th century and John Cabot in the 15th century). It was the last province to join Canada in 1949. It had its own distinct dialect of English, its own extremely potent brand of rum (called Screech), a long history associated with the fisheries and shipping and distinct wooden architecture around the scenic harbor of St. John's. It had history, scenery, whale and puffin watching tours. Ocean vistas and views beckoned. COVID shattered our Newfoundland plans. We could not cross the border. We did not feel safe undertaking a long vacation. So, we scaled back our expectations.
We settled on Ithaca, New York. I nervously booked a hotel near Cornell University for only 2 nights. We planned it out so we would eat picnics outside or at restaurants with outdoor dining. My expectations were immediately exceeded when we stopped at Whitney Point (which we had driven through dozens of times on the way to Canada without it registering in my consciousness at all) and found a beautiful park by a lake for a picnic lunch. Upon arrival in Ithaca, we nervously checked into our hotel. We brought wipes to wipe down our hotel room. We wore masks. We got the takeout breakfast from the hotel and ate our muffins on a nearby picnic bench.
While in Ithaca we did not do too much yet it was such a pleasant change from our isolated lives in Oneonta. We went to several beautiful parks and hiked to see waterfalls. We walked around Cornell University. I read a trashy novel in the evenings. In honor of our vegetarian daughter Sara, we ate a great all vegetarian meal at tables outside of the famous Moosewood restaurant. We walked around the Ithaca Commons pedestrian area. We got ice creams. We tried to go swimming at a park at Cayuga Lake, but it rained. It was ordinary. But it was extraordinary. Even with masks, hand sanitizers, a bit of paranoia about keeping socially distant from strangers and no indoor dining or museums, it was great. It was wonderful to break routine and explore even for a bit. We felt rejuvenated. We stayed healthy. All went well.
In the months to come, especially when COVID's next wave hit with a resurgence in the Fall. I kept telling my ever-patient wife Michelle, "You know, Jon was right about that summer vacation!" At least we created one pleasant memory from the horrible season of COVID.